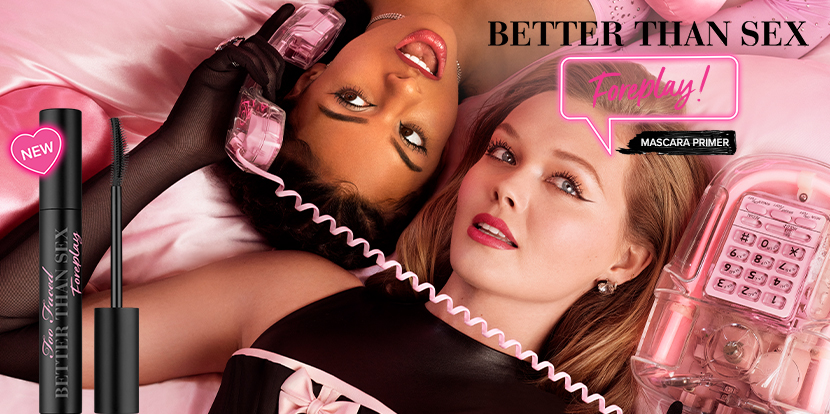 TOO FACED
A cosmetic brand that knows how to have fun, Too Faced is built on the ethos that make up is power – giving you the freedom to express yourself to the world, your way. Fusing cutting-edge ingredients with innovation, the brand dreams up a plethora of PETA-approved cosmetics. From volumising lip plumpers and velvety pink blushers to hydrating primers and lengthening mascara – Too Faced has the beauty world in its hands.
A 101 Guide to Too Faced
Discover the best Too Faced make up products according to Cult Concierge expert Natalie, plus top tips on how to use them for the ultimate glow-up.
TOO FACED: BORN THIS WAY
Synonymous with coverage that's virtually undetectable, Too Faced's bestselling complexion collection is nothing short of perfection. Spanning from a 35-shade strong foundation to a full-coverage concealer and a look-locking setting powder, these formulas promise a flawless, photo-ready finish.
DISCOVER TOO FACED
The Too Faced story began back in 1998 when the brand was born on the principle that make up should be expressive and fun. With that in mind, it quickly became an industry leader with its innovative techniques and game-changing colours. From the signature Lip Injection lip plumper to the Better Than Sex mascara, each product is as playful as its name.
BORN IN THE 90S
The 90s was a fun decade in many ways, but in the cosmetics industry, things were pretty serious and uninspiring. Darkness was all the rage and pink had a bad rep. So, what better way to turn it around than a witty brand name like Too Faced, and a glitter eyeshadow? The brand dreamt up the world's first glitter eye shadow in 1998 (and for that we are eternally grateful), then went from strength to strength in the 21st Century.
MAKE UP IS POWER
Too Faced believes that make up is power, giving people the freedom to express themselves and the confidence to take over the world. Its vision is to create make up that celebrates individuality, artfulness, and a strong sense of fun.
PETA-APPROVED
Too Faced loves animals just as much as it loves its own products, and so for that reason it doesn't test any of its products or ingredients on nature (or ask others to do so on its behalf).