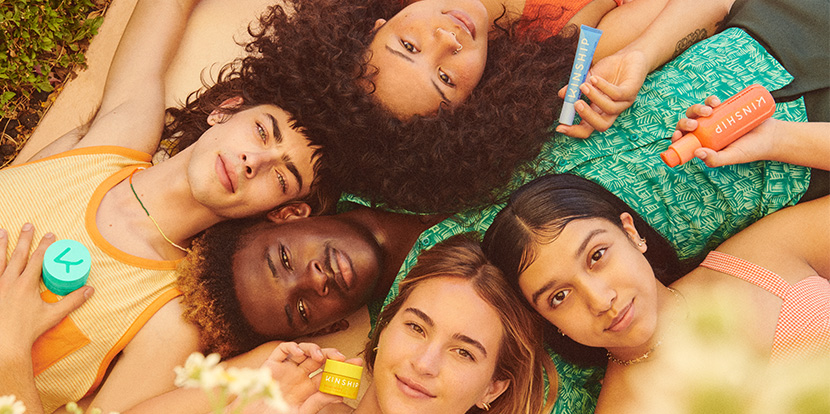 KINSHIP
Created by scientists and industry experts, Kinship dreams up cruelty-free skin care that benefits all well beings. Supercharged by the brand's signature proprietary ingredient, Kinbiome (a plant-based pre-probiotic that aids a healthy microbiome), these everyday essentials support your skin's barrier to unveil a luminous glow. Built on the basis that everyone deserves a happy complexion, the good-for-you solutions are suitable for even the most sensitive skin types.
DISCOVER KINSHIP
DISCOVER KINSHIP:
Built on the philosophy that your skin barrier is everything, Kinship dreams up skin care solutions that protect and promote a happy, healthy complexion. Understanding that our skin thrives when our bacteria is in balance, the brand pays homage to the properties that ensure this equilibrium is happening (yes, we're talking about our microbiome, of course). With a curated collection of cleansers, creams and treatments, Kinship's line-up provides a high-quality formula for every step of your daily routine.
KINSHIP'S BESTSELLERS:
With a plethora of firm-favourites (think gel cleansers, detox masks and lip balms) Kinship's skin care collection is bursting with bestsellers. A case in point? The Supermello Hydrating Gel Cream Moisturiser. Renowned worldwide for its heavenly hydration, this gel-cream formula delivers a sweet dose of dew with all the lightness - and none of the stickiness - of its namesake marshmallow. Plus, powered by a plant-based blend of hyaluronic acid, softening coconut water and antioxidant marshmallow root, it wards off redness and irritation.
KINSHIP'S COMMITMENT TO THE PLANET:
Leaping bunny certified, Kinship prides itself in creating cruelty-free products that benefit all the planet's inhabitants. This gold standard gives you the assurance that the brand has made a genuine commitment to help end animal testing while meeting the rigorous criteria governed by global laws.