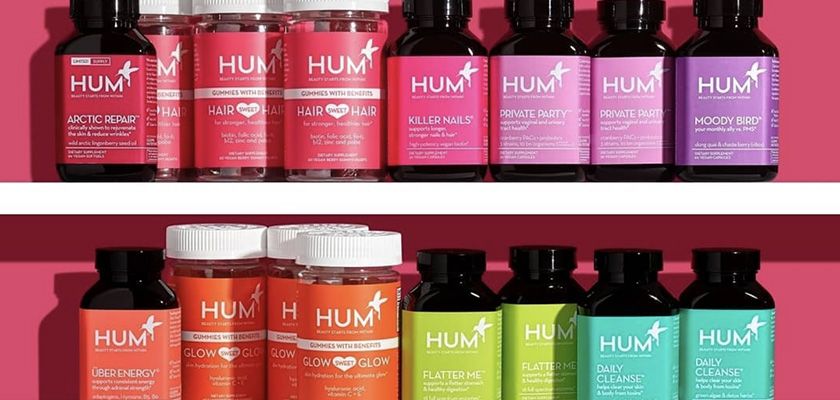 HUM NUTRITION
Built on the belief that self-care starts from within, HUM Nutrition prides itself on making people feel confident in their body and skin. Powered by bioavailable, naturally derived nutrients with clinically proven quality, the brand's clever capsules and gummies target specific skin, body, hair and mood concerns, while boosting overall wellness. What's more, HUM Nutrition's supplements are all triple tested for potency and purity too.
HUM NUTRITION BESTSELLERS
SHOP HUM NUTRITION BY CATEGORY
DISCOVER HUM NUTRITION
Making wellness its number one priority, HUM Nutrition dreams up clinically tested supplements primed to make you feel more confident in your skin. Targeting several isolated concerns, the brand's gummies and capsule collections act as nutritional solutions that target very specific skin, body, hair and mood needs. What's more, HUM Nutrition's iconic capsules are housed in Prevented Ocean Plastic bottles, meaning they are upcycled from plastic waste that would otherwise end up in the ocean. Saving both people and the planet – impressive, we know.
THE STORY BEHIND THE BRAND
Born out of Walter Faulstroh's skin care struggles, it's safe to say HUM Nutrition knows a thing or two about problematic skin. After years of suffering from adult acne, the co-founder had a hunch that it could be his digestive system causing his burst of blemishes. With that in mind, he decided to collaborate with renowned nutritionists to understand and bridge the gap between gut and skin health. The result? HUM Nutrition.
SCIENCE-BACKED INGREDIENTS
Only using ingredients that are safe and highly effective, all of HUM Nutrition's products are clinically tested and approved. But the brand's commitment to make a clinical difference, doesn't stop there. HUM Nutrition also researches into the amount and types of each ingredient that need to be used to get the best results.
HUM NUTRITION'S PLANET-POSITIVE COMMITMENTS
Pledging to help the people and the planet, HUM Nutrition houses its capsules in100% Post Consumer Plastic (otherwise known as Prevented Ocean Plastic) – meaning that every time a bottle is sold, HUM prevents two to four bottles from ending up in our oceans. It's main goal? To prevent the equivalent of 50 million containers from entering the ocean and eliminate all single use plastic by 2025 altogether. Now that's something we can all get on board with.