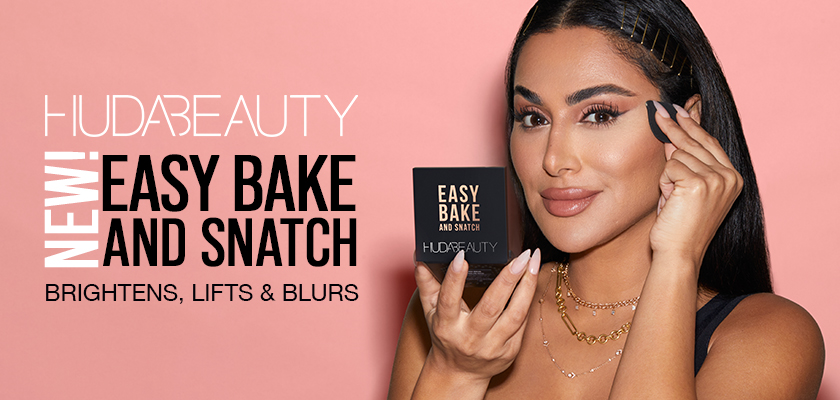 HUDA BEAUTY
Award-winning beauty blogger and celebrity make up artist, Huda Kattan, launched Huda Beauty in 2013. While building up an A-list clientele in her MUA days, Kattan became tired of the false eyelashes available to her at the time – so naturally, she began creating her own. But with her profound knowledge of the industry, she soon expanded her range into palettes, lipsticks and complexion products – which have amassed a cult following all over the globe. Huda Beauty continues to be one of the fastest-growing beauty brands in the world. And it doesn't show any signs of slowing down yet…
DISCOVER HUDA BEAUTY
Huda Kattan launched her beauty empire back in 2013. Starting her career as a beauty blogger, she's now one of the most influential women in the industry – with a whopping 50+ million Instagram followers. After training as a make up artist in Hollywood, she launched her lash collection with incredible success. But with her expertise and incredible eye for detail, she expanded the Huda Beauty range to include the iconic palettes, sought-after lipsticks and cult-favourite eyeliners we know you wouldn't want to be without.
HOLLYWOOD-TRAINED MAKE UP ARTIST
Racking up an impressive clientele of A-listers and royal family members, Huda Kattan has been trusted by some of the most famous faces on the planet. So, we have absolutely no doubts when it comes to the expertise behind her make up formulas. Becoming instant sell-outs across the globe, the Huda Beauty range consists of everything from creamy foundations and long-wearing lipsticks to ultra-fluttery lashes and richly pigmented palettes.
THE POWER OF SELF-EXPRESSION
Huda Beauty believes that make up should give you the power to express who you are. It should make you feel beautiful, comfortable, and most importantly, give you confidence. And with their engaged community, they always know what products they should conjure up next.
CRUELTY-FREE
Huda Kattan's Instagram bio reads: 'Tested on huda NOT animals' – so we think it's safe to say that the brand is passionate about being cruelty-free.