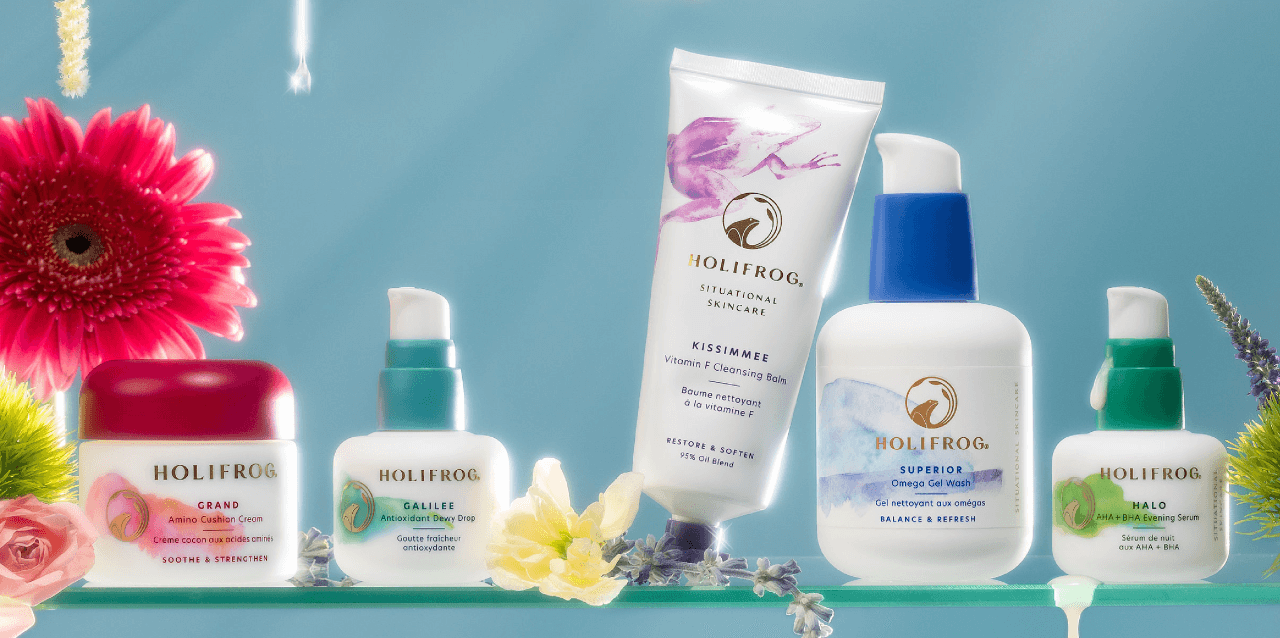 HOLIFROG
Created from the idea that skin care is dependent on more than just a blanket skin type (if only life were so simple), Holifrog's ethos aptly named 'Situational Skincare' explains that our complexion will continue to change and evolve. Just like the humble frog, our skin is permeable to outside toxins, bombarded with free radicals and powerful pollutants. Holifrog creators Emily Parr and Majeed Hemmat therefore set to tackle stressed skin in every situation.
DISCOVER HOLIFROG
Aptly named, Holifrog takes inspiration and understands that like these small, slimy amphibians our skin is permeable to nasties that we'd rather have defences for. Realising that skin is most penetrable after you've washed and cleansed, co-founders, Emily Parr and Majeed Hemmat, wanted to create products that were essential to your skin's health. To do this they used bioactive ingredients that give real results without including anything toxic or irritating.
SKIN SAVING INGREDIENTS

Creating a faithfully good for skin collection, Holifrog has a list of non-negotiable nasties in the form of its HoliSh*t List. This includes Acrylates, Alcohol (SD alcohol, ethanol, denatured, isopropyl methanol or ethyl alcohol), Aluminium compounds, Benzalkonium Chloride, BPA, Butoxyethanol, Chemical Screens, Coal Tar Dyes, DEA, Detergents, EDTA, Essential Oils, Ethoxylated ingredients, Formaldeyde, Fragrance, Heavy Metals, Hydroquinone, MEA, Mercury + mercury-compounds, Methylisothiazolinone, Mineral Oil, Palm Oil, Parabens, PEGs, Pthyalates, Polysorbate, Propylene Glycol, Resorcinol, Silicones, SLES, SLS, TEA and Triclosan.
HAPPY HOPPY SKIN:
Ultimately how well your skin care routine works is down to how dedicated you are. But Holifrog makes sure that everything it puts into its products makes them as hard working as possible. So, all you've got to do it stick to using them! With that in mind, the range only contains good for skin antioxidants, vitamins, gentle exfoliators, non-fragrant plant oils and extracts as well as skin identical ingredients (i.e. squalene, cholesterol and ceramides). The perfect combo for happy, hoppy skin.